100% Organic Purple Sea Moss Gel (500ML)
Regular price
Sale price
$44.00 USD
Unit price
per
Sale
Sold out
NOTE:
Due To Expiry Date, we're unable to send this product abroad from the UK.
Buy the Dry Moss for Worldwide Shipping ;)
What's different about Purple Sea Moss?
Purple Sea Moss contains powerful antioxidants called Anthocyanins, which are commonly found in blue and purple fruits or vegetables.
Anthocyanins are linked to health benefits such as stronger bones, a healthier heart, lower inflammation and protection against certain types of cancers.
Purple Sea Moss is more rare to find and is usually dried in a dark room to avoid
 losing it's unique colour and benefits.
Ingredients
:
Purple Sea Moss, Key Limes & Spring Water.
Production:
Our Sea Moss is thoroughly rinsed, then soaked with limes before being rinsed again.
Our Sea Moss gel is made fresh to order, without using any preservatives.
Why Eat Kaizen Sea Moss? 
Organic, Wildcrafted Sea Moss is one of the most nutrient-dense foods on the planet containing 92 of the 102 minerals that our body needs to function properly.
This includes iron, magnesium, phosphorus, zinc, vitamin A, vitamin K, omega-3 fatty acids and many more.
How To Use?
Sea Moss is very versatile. It can be added to smoothies, porridges, soups, hot drinks or straight off the spoon. 
The perfect way to make anything nutritious.
-
Just add 1-2 tablespoons to whichever method you prefer. 
Where does our Sea Moss come from?
Kaizen Moss is naturally grown in the beautiful Caribbean Island of St. Lucia.
Our Sea Moss was harvested by small scale aquaculture farmers in the safeguarded seas of St. Lucia. These waters are fed nutrients from the nearby volcanic lands.
Order Information
Orders are processed weekly, usually every Wednesday. Please allow 2-3 days from this time for your order to be freshly produced, properly packaged and safely dispatched.
When your order arrives please place your jar in the refrigerator straight away. Your Sea Moss Gel must be refrigerated for at least 2 hours before use, this allows it to reform into the correct consistency.
Please consume within 3 weeks of arrival or 6 months if frozen.
DISCLAIMER 
Nutritional benefits may vary between different people. Always consult with a medical professional before incorporating herbal remedies into your diet, particularly if you are pregnant, breastfeeding or taking medication.
Share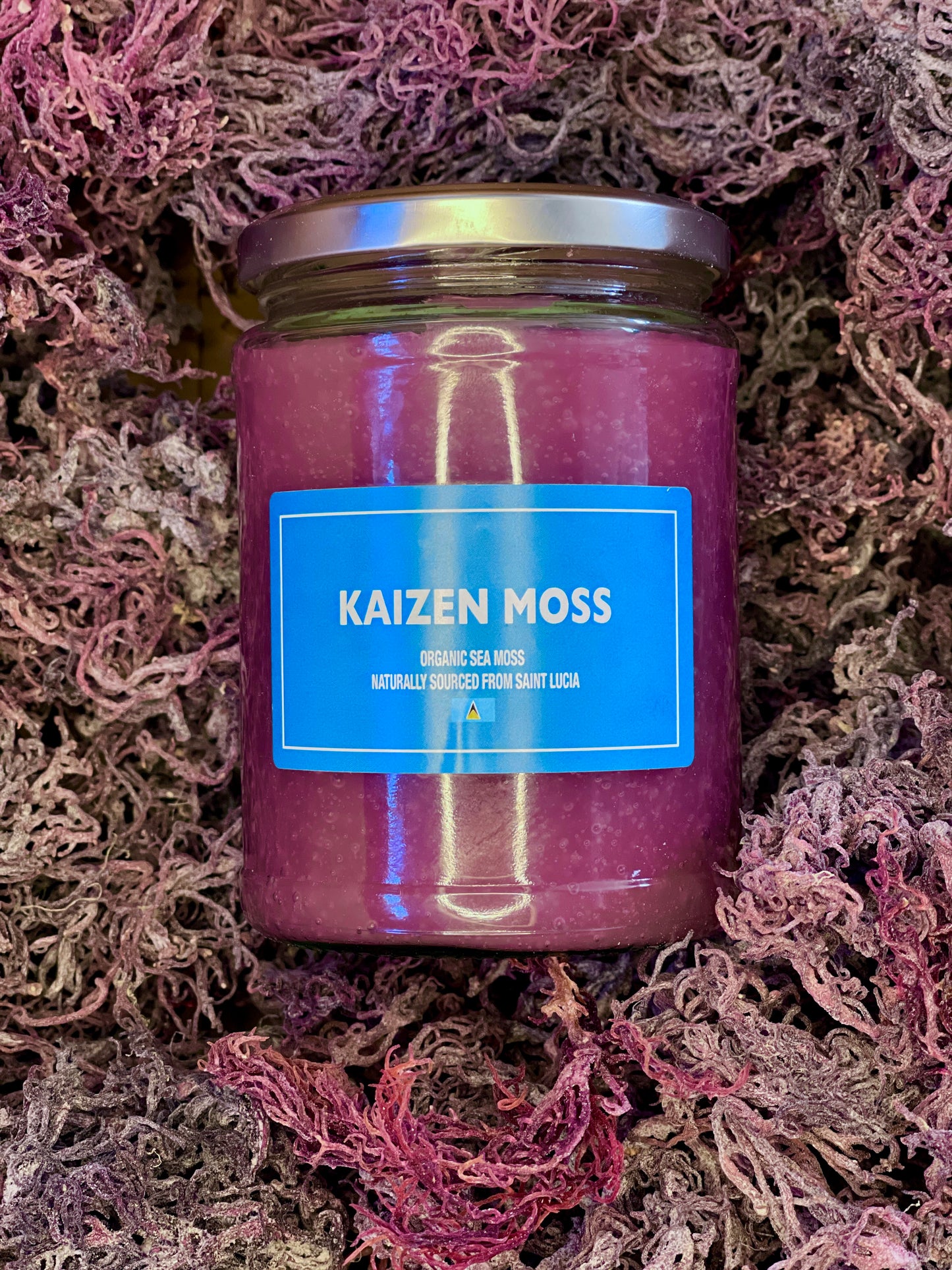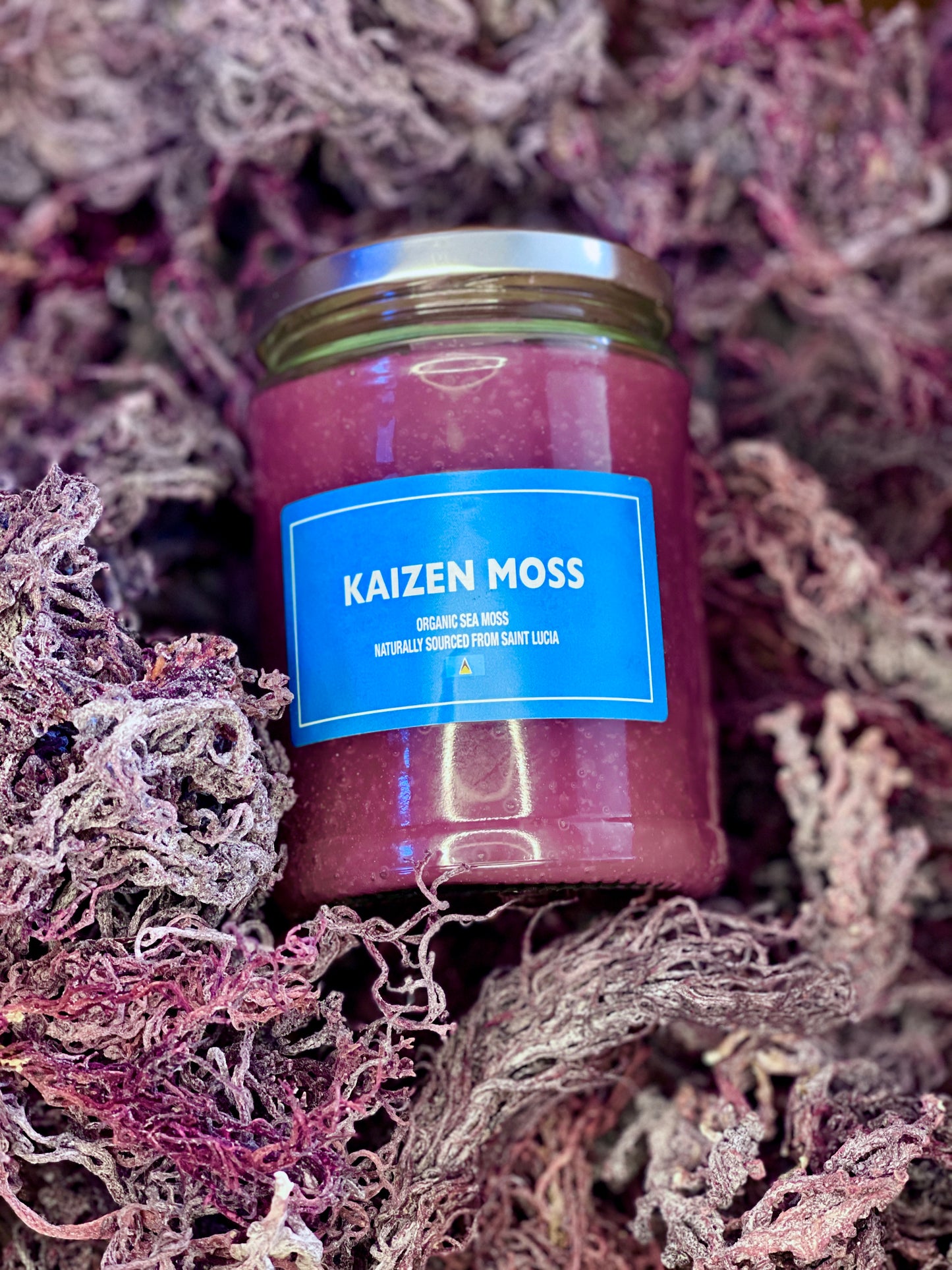 Excellent
Another amazing product, highly recommend!
Positive benefits 100%
I suffer with so many health issues, but don't like how these medics believe pills are the answer. I have been taking the purple sea moss for 10 days now and definitely feel the difference in myself. More energy is one of the positive benefits, you don't even know how this sea moss is making my body smile again. Thank you, and I will definitely be ordering again.
Great stuff
Really glad I found this to buy such a great product !! Easy to buy on line and delivered when said. What more can you ask
Great and quick delivery
My first experience with Sea Moss and definitely feeling difference! Easy to add to food and drinks and I am glad to have an opportunity to support your brand rather than any corporations etc. :)
100% Organic Purple Sea Moss Gel (500ML)