Dry Organic Kaizen Moss 90g (Worldwide Shipping)
Regular price
Sale price
$30.00 USD
Unit price
per
Sale
Sold out
SPECIAL OFFER: BUY 2 PACKS TO UNLOCK FREE SHIPPING (subject to destination)
It's Finally Here! 
The Organic KAIZEN MOSS Dry Packs Are Now Available Worldwide 🌍
Why Buy Dry KAIZEN MOSS? 
Kaizen Moss Gel is arguably one of the thickest, most nutrient-dense Moss Gels on the market, and 1 Kaizen Moss Dry Pack allows you to make 3 of them. This is a more cost effective way to stay stocked up on Sea Moss consistently.

Organic, wildcrafted sea moss is one of the most nutrient-dense foods on the planet containing 92 of the 102 minerals that our body needs to function properly. This includes iron, magnesium, phosphorus, zinc, vitamin A, vitamin K, omega-3 fatty acids, and many more.

Click here to read more about the amazing benefits of seamoss!


How To Make Kaizen Moss Gel?

All detailed instructions are included on the packaging.
All you need:
- A Blender
- 30g of Kaizen Moss
- 2.5L Spring Water
- 1 Lime

Once made into a gel, Sea Moss is very versatile. It can be added to smoothies, porridges, soups, hot drinks, or straight off the spoon. The perfect way to make anything nutritious. Just add 1-2 tablespoons to whichever method you prefer. 

Where does our Sea Moss come from?

Kaizen Moss is naturally grown on the beautiful Caribbean Island of St. Lucia. Our Sea Moss was harvested by small-scale aquaculture farmers in the safeguarded seas of St. Lucia. These waters are fed nutrients from the nearby volcanic lands.

Once harvested the Sea Moss is sun-dried and therefore filled with even more natural goodness.
Share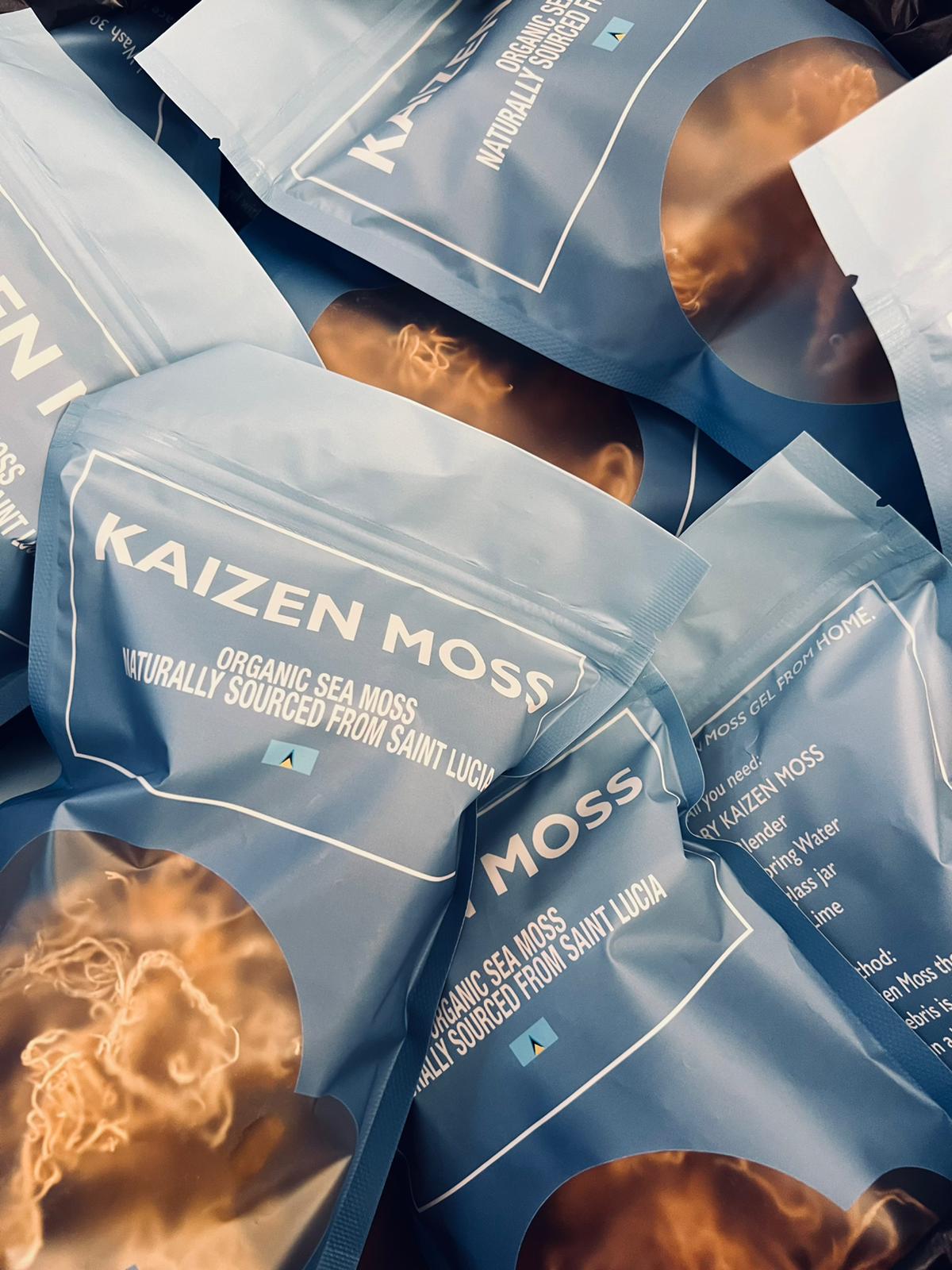 sea moss
It is really good and pretty easy to make a sea moss gel out of the dey version, it tastes okay but I prefer making a smoothie with it, my health has improved and I feel more motivated it shipped quite fast as being someone from germany overall amazing! :)
The best
Since using this seamoss my skin clearing up and I feel very healthy.
Excellent
I recommend that you try it because have many benefits for human health.
Sea moss
Great product will always be buying from this company 5*