Dry Organic Purple Kaizen Moss 90g (Worldwide Shipping)
Regular price
Sale price
$37.00 USD
Unit price
per
Sale
Sold out
SPECIAL OFFER: BUY 2 PACKS TO UNLOCK FREE SHIPPING (subject to destination)
It's Finally Here! 
The Organic KAIZEN MOSS Dry Packs Are Now Available Worldwide 🌍
Why Buy Dry KAIZEN MOSS? 
Kaizen Moss Gel is arguably one of the thickest, most nutrient dense Moss Gels on the market, and 1 Kaizen Moss Dry Pack allows you to make 3 of them. This is a more cost effective way to stay stocked up on Sea Moss consistently.

Organic, wildcrafted sea moss is one of the most nutrient-dense foods on the planet containing 92 of the 102 minerals that our body needs to function properly. This includes iron, magnesium, phosphorus, zinc, vitamin A, vitamin K, omega-3 fatty acids and many more.

Click here to read more about the amazing benefits of seamoss!

What's different about Purple Sea Moss?
Purple Sea Moss contains powerful antioxidants called Anthocyanins, which are commonly found in blue and purple fruits or vegetables.
Anthocyanins are linked to health benefits such as stronger bones, a healthier heart, lower inflammation and protection against certain types of cancers.
Purple Sea Moss is more rare to find and is usually dried in a dark room to avoid
 losing it's unique colour and benefits.

How To Make Kaizen Moss Gel?

All detailed instructions are included on the packaging.
All you need:
- A Blender
- 30g of Kaizen Moss
- 2.5L Spring Water
- 1 Lime

Once made into a gel, Sea Moss is very versatile. It can be added to smoothies, porridges, soups, hot drinks or straight off the spoon. The perfect way to make anything nutritious. Just add 1-2 tablespoons to whichever method you prefer. 

Where does our Sea Moss come from?

Put simply? Our Cousins in Saint Lucia. Kaizen Moss is naturally grown in the beautiful Caribbean Island of St. Lucia. Our Sea Moss was harvested by small scale aquaculture farmers, that happen to be our relatives, in the safeguarded seas of St. Lucia. These waters are fed nutrients from the nearby volcanic lands.

Once harvested the Sea Moss is sun-dried and therefore filled with even more natural goodness.
Share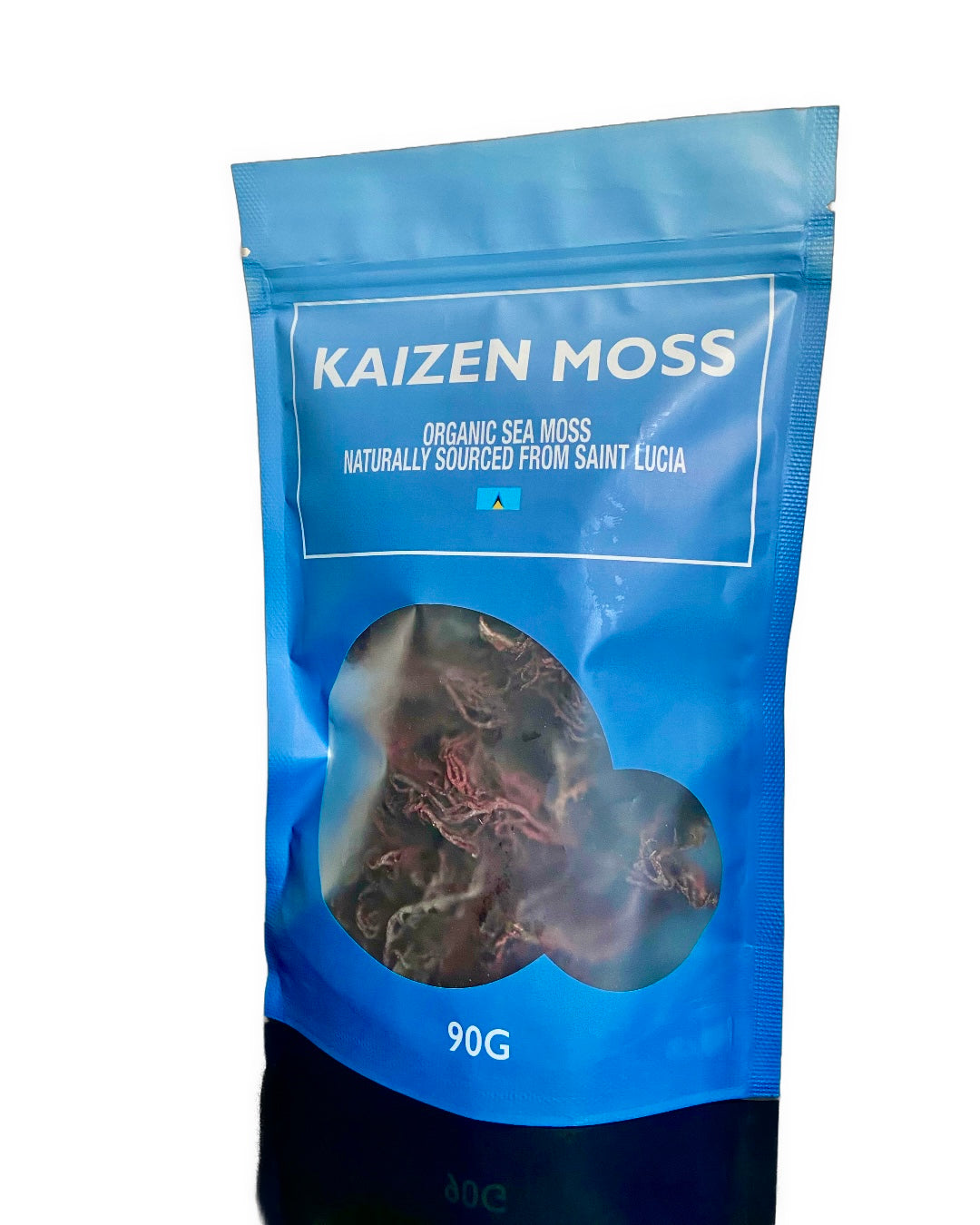 Excellent!
I got this after watching a video on how to make seamoss gel at home myself; and I must say, it was a very straightforward process, thanks to the instructions that come on the packaging of Kaizen moss. The longest part of this was to wash and let the seamoss soak, but the whole process isn't difficult at all - I must say that the sea moss was quite clean as there wasn't much debris or sand to wash off to begin with. I made two jars with lime and looking to experiment with flavours next round. Would recommend this version of the product if you've already tried some of the Kaizen Moss gel and are looking to give making this a go yourself.
Where are the lab values of the sea moss?
I bought this product because I followed you for so long on social media without realising what I'm buying. This sea moss can be really dangerous and contain too high amount of iron! My health is not a lottery for me and should not have to do with luck, the whole sea moss has ended up in the trash, because I can not even send it back. Wasted money!
And to all people who simply buy something based on trust, there is no product that can heal everything and organic diet is enough then trying bullshit from TikTok.
Incredible
Love the product!! Will for sure order again!
Kaizen Moss Customer Review 💙💜 🇵🇱
Ordered Kaizen Moss to Poland 14 days ago.
Package came in 11 days.
Only been taking sea moss for 3 days and already I'm noticing more energy and less brain fog.
Now we know this is the real deal!
Quick suggestion to the store owner…
It would be great if you started selling shilajit infused sea moss gel…
Maybe even a shilajit brand of your own!
I don't think this has ever been done before and it's the perfect combo! 👍
Peace and blessings. ✌️🙏
Haven't received it
I never received it just returned back to sender…